The Diamond Run (A Shadow Files Thriller)
COMING SOON…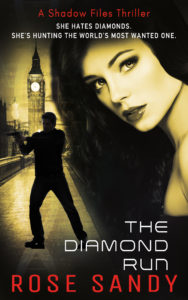 She hates diamonds. Then why's she hunting the world's most valuable one?
Aria Raith, The Maldives. Oceanographer Aria Raith is the underworld's best treasure hunter, a woman who finds rare gems in the oceans' museum of pirate hordes. It's one way to forget a sister who went missing five years ago never to be found. Contracted to find the rarest treasure in history, she's finally found the gem she's been looking for, and it's time to cash in.
Jave Lincoln, Washington DC. He's the Marine Corps biggest problem harboring a secret that haunts him. He leaves home to serve his country. At the US Embassy in India, no one will ask any questions.
When a call from Aria's father, US ambassador to India, requires Aria's expertise to recover a prestigious family diamond no one has heard of, and one the wrong kind of people will kill for. It just so happens that Jave has not only heard of the diamond, he wants it to disappear.
Finding an unsuspecting ally in Jave, Aria must race against the clock to unravel clues a century-old diary hide, clues and perhaps answers pointing to what happened to her sister.
A breathless sprint across continents, The Diamond Run is a gripping tale of intrigue and romps around the world at a thrilling pace.