The Code Beneath
The object: survival. The target: her DNA.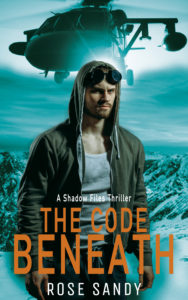 An infertility disease out of control… Two brothers with a secret that divides them… One woman whose love can destroy them both…
Twenty-five years ago, twelve women in the small town of Benton, Pennsylvania contracted a mysterious, infertility disease. One by one, they became barren. Code-named nephthysis, the threat becomes global and soon sparks an international, intelligence race to fight a growing infertility epidemic.
Five thousand miles away, in a northeastern Italian town, one of the twelve gives birth to a healthy baby girl. Jewel Carlone's birth is virtually unknown to the medical world until the U.S. government starts digging and discovers she carries a gene with the answers. Powerful people are prepared to pay for her DNA code.
While on a trip to Austria Jewel meets Leal Trelles, a gifted-yet-mysterious disease detective with a past no doctor is allowed to have. When the government threatens Leal with prosecution and exposure of an alarming secret, he is backed into a corner. Their instructions are clear: get the code, produce a drug and they'll look the other way. For Leal, it's just not that simple. He is unprepared for the effect Jewel has on him and soon a trip with her to the Himalayas suddenly goes very, very wrong…
Spinning from New York to Montpellier, from Salzburg to Venice's charming waterways and from the Himalayan ranges to Saint Louis, THE CODE BENEATH is a complex suspense thriller steeped in corporate and government conspiracies.