The Decrypter: Secret of the Lost Manuscript (A Calla Cress Technothriller)
*** The first book in the explosive bestselling technothriller series and now optioned for film and TV ***
"A female James Bond with a Matrix twist." Amazon Reviewer
SAVINGS FROM THE PUBLISHER➜ CLICK HERE
Apple US ➜ click here  Apple UK ➜ click here
Kobo ➜ click here  Nook ➜ click here  Other Retailers ➜ click here   Other Amazon Sites ➜ click here
Google Books ➜ click here
Barnes and Noble ➜ click here    Waterstones ➜ click here
AUDIO:  Buy an auto-narrated copy of this book here.
The secret of the manuscript is only the beginning . . . the truth could cost her life.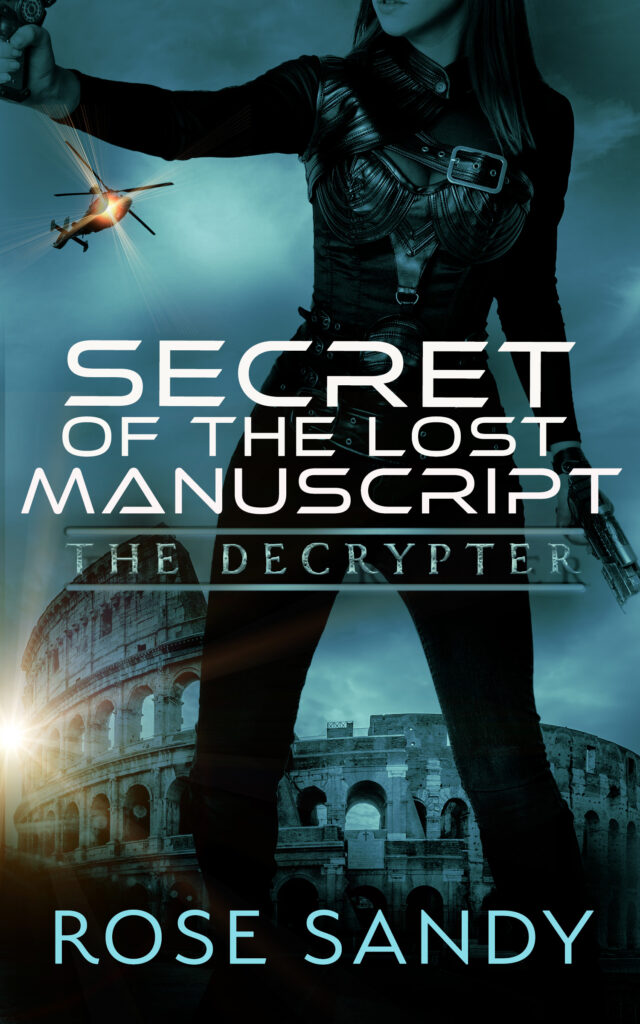 Twenty-eight years ago, her parents went missing. Raised an orphan, she'll never stop until she finds them. But some secrets are better left buried.
Now British Museum curator Calla Cress is plunged headfirst into the mystery of an unbreakable code, written on a two-thousand-year-old manuscript whose origin is as debatable as the origin of life. But why does the manuscript interest the world's most dangerous secret government agency?
When the highly guarded document vanishes in Berlin with a long-hidden secret concerning Calla's family, she finds herself up against an adversary with superior firepower. Calla must use her wits to decode the manuscript's riddle before it's too late. Could its decryption lead to an astounding technological breakthrough and a dangerous new world?
Forced on a run halfway across the world, Calla dodges sniper shots and globetrotting spies into a desperate hunt for truth and survival. Nothing in either the modern or the ancient world is what it appears to be. Soon she discovers she's made of tougher stuff than she ever imagined.
The Decrypter: Secret of the Lost Manuscript delivers high-octane action, and provocative twists you won't see coming.
Don't miss this action-adventure, exhilarating ride that will liven a boring afternoon, and stretch your mind to see a little further.
The Calla Cress technothrillers in order:
BOOK 1 – THE DECRYPTER: SECRET OF THE LOST MANUSCRIPT
BOOK 2 – THE DECRYPTER AND THE MIND HACKER
BOOK 3 -THE DECRYPTER: DIGITAL EYES ONLY
BOOK 4 – THE DECRYPTER: THE STORM'S EYE
Meet the Decrypter
Reader Praise for 'The Decrypter: Secret of the Lost Manuscript'
"Takes you on a ride and refuses to let you off until you reach the very end."
"A brilliant read! I recommend this to anyone who enjoys mystery, suspense, thrillers, or action novels. The detail is astounding! The historic references, location descriptions, references to technology, cryptography….this author really knows her stuff."
"An action-packed adventure, technothriller across several continents like a Jason Bourne or James Bond movie, but with an actual storyline!"
"Brilliantly written. I loved the very descriptive side, which was a good way of visualizing and getting to terms with each new place, as the action takes place in several different countries."
"The description is so rich, so detailed that it draws you completely to its world."
"There is great tension and chemistry between the two main characters, Calla and Nash, that has you begging for more."