The Decrypter: Secret of the Lost Manuscript
A Calla Cress Technothriller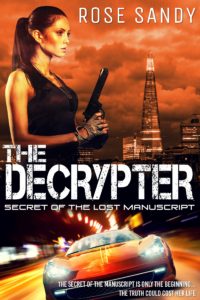 *** The 1st book in the explosive bestselling technothriller series ***
Amazon US➜ click here
Amazon UK➜ click here
Apple US ➜ click here
Apple UK ➜ click here
Kobo ➜ click here
Nook ➜ click here
Other Retailers ➜ click here
Other Amazon Sites ➜ click here
The secret of the manuscript is only the beginning . . . the truth could cost her life.
Though her specialty is Roman collections at the British Museum in London, history expert turned government agent Calla Cress finds herself thrown into a bizarre international case.  A code is written in an unbreakable script on an ancient manuscript whose origin is as debatable as the origin of life.  Could its decryption lead to a global cyber war?
When the highly guarded document goes missing from a Berlin museum and ends up in her personal belongings with a long-hidden secret concerning her parents, Calla is backed into a corner. Forced on a run halfway across the world, Calla is pursued from the underground scene of espionage intelligence into a desperate hunt for truth and survival. Soon she discovers that she's made of tougher stuff than she ever imagined. Her only allies are few but resourceful.
There's Nash Shields, a handsome yet mysterious National Security Agency (NSA) intelligence analyst.  Jack Kleve, a witty technology entrepreneur.
The trio is thrown into a sophisticated conspiracy spanning continents and dating back several centuries. The secret of the manuscript is only the beginning . . . The truth could cost them their lives.
THE DECRYPTER: SECRET OF THE LOST MANUSCRIPT is a fast-paced, provocative, action-adventure technothriller seeped in history that poses a question – what if the future of cyber technology had more to do with the past?
Reader Praise for 'The Decrypter: Secret of the Lost Manuscript'
"Takes you on a ride and refuses to let you off until you reach the very end."
"A brilliant read! I recommend this to anyone who enjoys mystery, suspense, thrillers or action novels. The detail is astounding! The historic references, location descriptions, references to technology, cryptography….this author really knows her stuff."
"An action-packed adventure, techno thriller across several continents like a Jason Bourne or James Bond movie, but with an actual storyline!"
"Brilliantly written. I loved the very descriptive side, which was a good way of visualizing and getting to terms with each new place, as the action takes place in several different countries."
"The description is so rich, so immensely detailed that it just draws you in completely to its world."
"There is great tension and chemistry between the two main characters, Calla and Nash, that has you begging for more."