The Decrypter: Digital Eyes Only (A Calla Cress Technothriller)
*** The third book in the explosive bestselling technothriller series ***
"A female James Bond with a Matrix twist." Amazon Reviewer
Grab your copy today!
Savings From the Publisher➜ click here
Amazon US➜ click here Amazon UK➜ click here Apple US ➜ click here
Apple UK ➜ click here Kobo ➜ click here Nook ➜ click here Other Retailers ➜ click here Other Amazon Sites ➜ click here
Google Books ➜ click here
AUDIO: Buy an auto-narrated copy of this book here.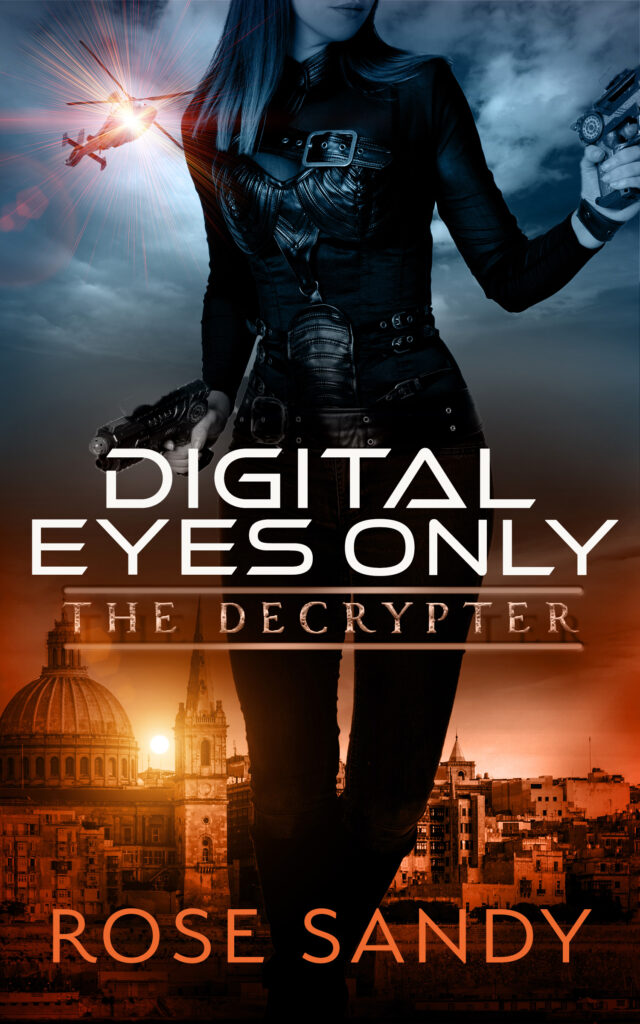 Encrypted. Stolen, Ransom
A hi-tech encrypted device, with a list of codes detailing far-future technologies, goes missing from the NSA's vault of secrets.
When the British prime minister's private accounts are hacked, museum curator-turned-cyber-defense agent Calla Cress is called on to decrypt a mysterious cipher left in the prime minister's home. Soon a series of encrypted ciphers surfaces on a darknet site, the Vault, whose inception is steeped in the mysterious history of the Maltese Knights. As Calla gets closer to not only unearthing the Vault's interlaced web of secrets but also discovering the identities of the darknet masters, she learns that technologies aren't the only thing the darknet intends to auction.
Calla has no idea how far the quest will plunge her and NSA agent, Nash Shields, into the past, and how much preventing a cyber war will hold the world ransom at a price much higher than she's willing to pay.
In a fast-paced, cyber-espionage, technothriller from the streets of London to the coves of Malta, from the glitzy allure of Monte Carlo to Spain's royal complex of the Alhambra fortress, Calla must end the sale of the NSA list, but with every attempt at annihilating the digital auctions, she risks exposing her dearest secret.
The Decrypter: Digital Eyes Only is Book 3 in the Calla Cress Technothriller Series, but can be read as a stand-alone story.
Reader Praise for 'The Decrypter: Digital Eyes Only'
Full of action from the very beginning to the end." Amazon Reader