The Decrypter: The Storm's Eye (A Calla Cress Technothriller)
*** The fourth book in the explosive bestselling technothriller series ***
"A female James Bond with a Matrix twist." Amazon Reviewer
Grab your Copy Today!
Savings from the Publisher➜ click here
  Amazon US➜ click here Amazon UK➜ click here Apple US ➜ click here
Apple UK ➜ click here Kobo ➜ click here Nook ➜ click here Other Retailers ➜ click here     Other Amazon Sites ➜ click here
Google Books ➜ click here   Print Book – (ISBN: 9781789265453)
AUDIO:  Buy an auto-narrated copy of this book here.
Barnes & Noble  ➜ click here      Waterstones  ➜ click here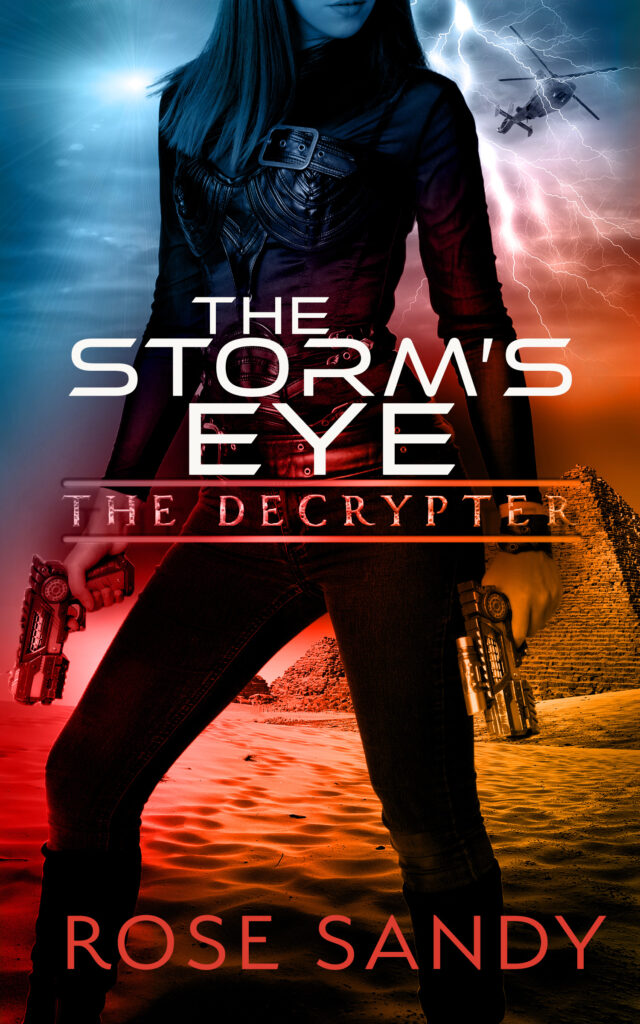 Classified. Hacked. Disaster.
A group of international scientists is sent to an abandoned island to investigate a mysterious technology, only to face a terrifying discovery that defies imagination.
Calla Cress is a no-nonsense British Museum curator, turned cyber agent. Nicknamed the Decrypter, she finds answers in every encrypted cipher, code, and script. Ancient and cyber. Only a month ago she brought down a malicious dark net organization with a team of quirky technology-minded pals. And now wants a deserved break.
But something strange is brewing in the skies a continent away, and the US and British governments have taken notice. The weather seems to follow commands from a decades-old, abandoned research facility on an uninhabited island. The only problem is…no one is there.
Classified for thirty-five years, Calla discovers that change in climate is only the beginning. She is about to learn that the answers lie in a journey more terrifying than anything she could've imagined, one that will force Calla to confront her darkest self.
Taut with suspense and with an unnerving premise, this fast-paced, cyber-thriller spins from Hawaii's oceanic reefs to the allure of St. Petersburg, from the tropical charm of Miami to ancient Portuguese ports, Calla must confront an unseen enemy and claim a tech discovery that could literary change the future of the globe.
The Decrypter: The Storm's Eye is Book 4 in the Calla Cress Technothriller Series, but can be read as a stand-alone story.
Watch the book trailer here.